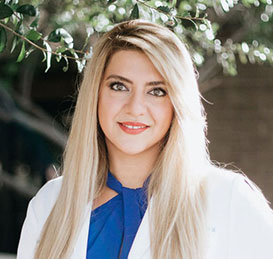 Vanousheh Ghandhari, DPM, FACFAS
Vanousheh Ghandhari, DPM, FACFAS is a board-certified podiatric physician and surgeon in practice since 2014.
At the University of California Berkeley (UC Berkeley), Dr. Ghandhari earned a Bachelor of Science in Integrative Biology. She then attended Midwestern University in Arizona, achieving a Masters of Arts in Biomedical Sciences. She continued on at Midwestern University College of Podiatric Medicine, and graduated with a Doctorate of Podiatric Medicine in 2014. Her postgraduate training included a rigorous three-year residency focusing on rearfoot and ankle reconstruction surgery and trauma. Dr. Ghandhari received additional surgical training from New Mexico VA healthcare system in Albequerque, NM and trauma training at Kaiser Foundation North Valley Trauma Hospitals.
Dr. Ghandhari is board certified in Foot Surgery and Reconstructive Rearfoot and Ankle Surgery by the American Board of Foot and Ankle Surgery. She is an active member and President (2022-Present) of the Arizona Foot and Ankle Medical Association, and a Fellow of the American College of Foot and Ankle Surgeons. She is affiliated with Chandler Regional Medical Center in Phoenix and the Arizona Orthopedic & Surgical Specialty Hospital.
Dr. Ghandhari is fluent in both English and Farsi.
Dr. Ghandhari specializes in:
Rearfoot and ankle reconstruction
Foot and ankle fractures
Lapiplasty bunionectomy
Total ankle replacement